The Lola Shuffle - "The I Got My Mammogram Done Today" Edition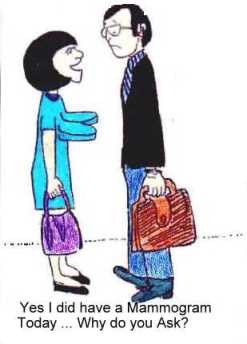 Yep - not only did the girls got *squozen*, they also got poked and prodded - because I had my first-ever breast ultrasound. Neither were fun. The Bone Density scan, however, was quite pleasant, I think I dozed for a bit while it was going on.
In any case the preliminary boobalicious diagnosis is that everything is fine. We'll know more details, along with the bone density results in a few days - if you can, send out a good thought for me. Thanks!

By the way age-applicable Blogger ladies - are *you* up to date with your mammograms?
OK, Lola - shuffle me an "I did a good thing today" shuffle.
That Don't Impress Me Much - Shania Twain

Night - Bruce Springsteen

When We Dance - Sting

Last Dance - Donna Summer (Hmmm...a mini-theme?)

I Am A Man of Constant Sorrow - The Soggy Bottom Boys

On the Atchison, Topeka and the Santa Fe - Bing Crosby

A Girl Like You - The Smithereens

I Write Sins Not Tragedies - Panic! At the Disco

Gold Dust Woman - Fleetwood Mac

Wishing on a Star - Rose Royce
Have a wonderful weekend everyone!
Labels: Health, The Lola Shuffle, Women