American Idol - Top 11 - Motown!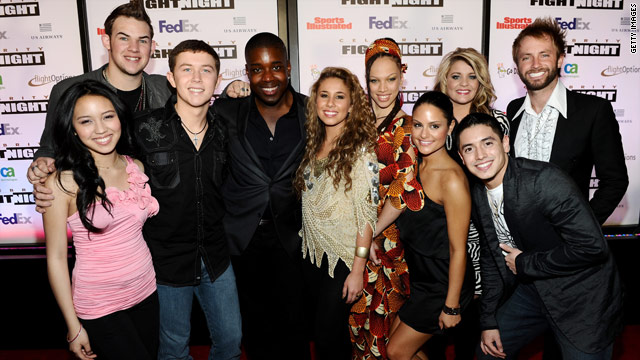 Wooooo Motown!

This can be very good or horribly bad...
I love Motown but I've seen it mangled on AI. Let's see what happens. Oy, I'm guessing Jennifer was going for the retro thing with the eyeshadow!
Casey Abrams
–
I Heard It Through The Grapevine -
fantastic song!
; NO! Screaming! OK, it got less bad but I don't like it. He's too affected...too too! I think I officially don't like this guy.

Score - 5



Thia Megia
–

Heat Wave
– Excellent song!; agai she looks beautiful; sounds good, the lows are a little wonky but I'm liking it; lost it a bit towards the end; she has a pretty voice; it was good, not great.
Score – 7
.

Jacob Lusk
–

You're All I Need
To Get By -
interesting choice, not an obvious hit, but good song
; See? They said he was overdoing it before; ok I like this he has a great voice; much much better!; if he can maintain the control throughout the competition this may work; awww nana!; god Ryan is an idiot!
Score - 9
.
Lauren Alaina
–

You Keep Me Hanging On
-
great song; she looks great; oh wait...this is working; omg I like it!; OK wow! that was really good.
Score - 8
.

Stefano Langone
–
Hello
–
meh, the song, I don't love it; he's cute; not bad; he just has a really good voice; see, the high parts worked; I like this kid;
.
Score - 8
.
Haley Reinhart -

You Really Got A Hold On Me

-
fantastic song!; she looks beautiful; good thing she's working the legs because the singing, not so much; ok really awful;
the ending made my ears bleed omg;
once again I have a total disconnect with the judges.
Score - 4.
Scotty McCreery
–
For Once In My Life
–
amazing song, not easy to do it justice - he looks good; he's actually pulling this off sorta- a countrifiedish version; that voice!!! ok Scottie no dancing, don't do that again; he's gonna be a country singer, but he did really well, this could have been a train wreck.
Score - 8
.

Pia Toscano
–
All In Love Is Fair
–
I don't know this song; she's gorgeous!; she's started off great...don't start with the yelling! (sigh) she's yelling; well the yelling wasn't awful and the last note was really good; I liked it
.
Score - 7
.
Paul McDonald
–
Tracks Of My Tears
–
fantastic song; he looks good but the hair?; this guy makes me nervous; well I didn't hate it; he can't dance with the guitar - that's a good thing; does he still have a cold? I don't know, I'm just not getting him
.
Score – 6
Naima Adedapo
–
Dancing In The Street
–
I love this song! she looks great!; she sounds great; yes! Loving the dancing!!!
She's my girl!
Score – 10
.
James Durbin
–
Living for the City
–
my absolute favorite Stevie Wonder song; looks good; started off weakish (for him - great for anyone else) but he worked it out; even with screeching he controls the screech; it wasn't his best, bit his not best is still really really good
.
Score - 9
.
Who I Think *Should* Go
:

Haley Reinhart
Who I Think *Will* Go: Haley Reinhart

I'm really impressed with Jennifer's judging - she actually has relevant stuff to say. Steven cracks me up. And then there's Randy.

I thought all in all this was a great show. What did you think?

Labels: American Idol