The Lola Shuffle - The "I'm Going on Vacation" Edition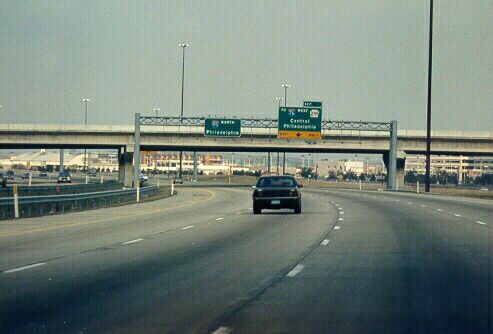 To paraphrase from the classic song.."All my bags are packed (they're not even out of the closet), I'm ready to go (mentally yes - logistically, not so much)...[skipping lyrics I can't play with]...I'm leaving on a jet plane (actually, we're leaving in a van - yep - ROAD TRIP!)

Anyhoo...Hubby, Lola and I are hitting the road tomorrow morning to Warminster, Pennsylvania - a suburb of Philadelphia and hubby's hometown). We plan to make two stops so that 6'5" hubby doesn't turn into The Hunchback of Nativity of Our Lord Catholic Church. We will be stopping in Brunswick, GA and Roanoke Falls, NC.

Since *I* don't drive I loves me a road trip...and now with Lola, my DVD playing laptop, the latest issue of
Mental Floss
and some books, I am good to go.
So Lola, give us some road music...
Don't Stand So Close To Me - The Police (props to Nabokov; actually Sting can stand as close to me as he wants)
Mr. Don't Touch The Banana - Willy Chirino (a really fun song, in Spanish, about an *americano* that runs awry of Santeria traditions)
Luxurious - Gwen Stefani
Last to Leave - Arlo Guthrie (Guthrie two weeks in a row - woo hoo! The song is definitely *road* related)
Everlasting Love - Gloria Estefan (Nice - Miami's Cuban-American musical contingent is showing up to wish us a good trip. Did you see her on "Dancing with the Stars" the other night? She looks good for just turning 50 dontcha think? Go Gloria!)
Lyin' Eyes - The Eagles (anytime The Eagles shuffle up it's a good thing)
Like U Crazy - Mates of State
Faithfully - Journey ("Highway run into the midnight sun...wheels go round and round...)
Practice What You Preach - Barry White (Sing it Barry, you smooth devil you)
Tenth Avenue Freeze Out - Bruce Springsteen
What? You all expected "Born to Run", "Thunder Road", "On the Road Again" or other obvious, traditional road songs? No, no, no. Lola is much more nuanced and cryptic than that my friends. She's an iPod of mystery. It's more about *spirit* than actual, you know, lyrics.
I'll be posting something daily - or trying my damnedest anyway - NaBloPoMo you know!
I hope you enjoy a wonderful drive somewhere this weekend...be safe!
Labels: NaBloPoMo 2007, The Lola Shuffle, Vacation